The weather can be unpredictable, so it's important to know how to keep your fire extinguisher safe when it's not being used. Storing your fire extinguisher outside is doable, however, keeping your device inside is ideal because it keeps them out of the elements. We understand this isn't always possible and that many businesses opt to store their fire extinguisher outside. Here are some tips on how best to protect your extinguishers from external elements.
In this article, we'll cover everything you need to know about storing your fire extinguishers outside. Why should they be placed outside? What extinguisher is best for outdoor use? How can we keep them secure, yet accessible?
Can You Store A Fire Extinguisher Outside?
The short answer: is yes, you can store a fire extinguisher outside.
Storing a fire extinguisher outside can be complicated. Legislation dictates that fire extinguishers must be protected from external elements including rain or frost damage. 
Firstly, the external storage of a fire extinguisher is a difficult task. It is crucial that the extinguisher is accessible, yet protected and ultimately out of the way. We must also consider how long it will be situated outside and will cold, or wet conditions affect our extinguisher performance.
Extreme heat and frost is not favourable for a fire extinguisher. We are responsible for ensuring our fire extinguisher outside is protected in a space where it won't get damaged by humidity, heat or rainwater.
Outdoor Fire Extinguisher Storage
What Is A Fire Extinguisher?
Fire extinguishers are a type of fire protection equipment used to extinguish or control small fires, often in buildings. Typically, fire extinguishers are cylinder-shaped multipurpose safety devices that can be handheld or mounted to the wall. Additionally, these devices are typically filled with a type of chemicals designed to suppress the spread of fire.
Why Do I Need A Fire Extinguisher?
A fire extinguisher is one of the most critical pieces of fire safety equipment you can acquire for your business. We at OHEAP strongly recommend that all businesses have fire extinguishers on their premises. In addition, we advise they are regularly serviced by one of our BAFE engineers.
A fire extinguisher is a vital tool for any business owner to have in order to ensure that their workplace is safe from fire damage and injuries caused by flames. The cost of replacing damaged equipment can be huge, so it makes sense to invest in a quality product which will give you peace of mind when working in the office.
Although the legislation in general, is fairly relaxed, there are some things you need to ensure are conducted correctly. You must remain mindful that the length of time a fire extinguisher is left unprotected should be kept to a minimum, In addition, how accessible is the extinguisher in case of an emergency?
Fire extinguisher specialists, OHEAP Fire & Security, can help you find the right fire extinguisher for your business. The type of extinguisher you need depends on the type of fire that could occur in your business and the space where it could happen. More importantly, we'll find an extinguisher that matches your budget and meets safety regulations like BSI standards.
Storing A Fire Extinguisher Outside
You can store a fire extinguisher outdoors, however, it must be in a secure place and away from the elements. NEVER store an extinguisher in your garage or shed unless it is locked away, out of sight and protected. If your fire extinguisher is not in use, then it should be stored in a cool, dry place at all times.
Fire extinguishers are life-saving devices. When it comes to putting out small fires, you can rely on an extinguisher. However, they are often bulky and we understand that you may not want to fill your premises with them.
Outdoor Extinguisher Musts:
A business that primarily operates outdoors or utilises outdoor areas such as a festival, bar or restaurant may want additional fire extinguishers to be kept outdoors. If a business wishes to store its extinguishers outdoors, it must:
Ensure fire extinguishers are kept under a cover or held in an enclosed space.
Reduce or remove fire extinguisher exposure to weather conditions.
Store in a cool, dry place.
Prevent access to the extinguisher from unauthorised people.
Keep the extinguisher under lock and key.
Prevent metal cylinder rusting.
Prevent unnecessary accidents.
Storing your fire extinguisher outside is not recommended, but there are cases where you may need to do so. If you have an outdoor storage area for your extinguisher, make sure that it is properly secured.
Protection Against Theft, Misuse or Vandalism
Storing your fire extinguisher outside is not recommended, but there are cases where you may need to do so. If you have an outdoor storage area for your extinguisher, make sure that it is properly secured.
Theft
If you have an outdoor fire extinguisher, you need to protect it from theft.
Outdoor fire extinguishers are often stolen for their copper and brass components. These metals are valuable, so it pays to protect your outdoor fire extinguisher from theft. You can do this by locking it up or hiding it somewhere that is not easily accessible. The best way to protect your outdoor fire extinguisher from theft is to keep it locked up in a secure cabinet.
The theft of equipment from a company's warehouse or storage facility can cost thousands in lost inventory and lost time if the equipment is not replaced immediately after such theft occurs.
Vandalism
If you are storing a fire extinguisher outdoors, consider purchasing locks that are specifically designed to prevent someone from tampering with or vandalising an extinguisher. You can do this by purchasing a cabinet with a locking mechanism.
To protect your outdoor fire extinguisher from vandalism, you should secure it with a lock and make sure it's not easily accessible. You can also install a heavy base or wall mount that will prevent kids from being able to move the fire extinguisher. To further protect your outdoor fire extinguisher from vandalism, place it in an area where people won't trip over it and accidentally discharge it.
Misuse
In addition to theft concerns, we should focus on fire extinguisher misuse. Secure your outdoor fire extinguisher to avoid children or adults misusing the equipment. This is a good idea for several reasons. Firstly, an unsecured extinguisher can be used by someone who has no idea how to use it properly. Secondly, if you have to replace your fire extinguisher because of misuse or damage, you will have to pay more money than if it had been secured in the first place.
Get A Quote For Fire Extinguisher Outside Storage
Fire Extinguisher Outside Cabinets
If you're looking for a fire extinguisher cabinet that can be used both indoors and out, consider investing in a weatherproof cabinet. These are designed to protect your fire extinguisher from rain, snow and sun damage. If you have an outdoor unit that needs protection from the elements, these cabinets offer excellent protection against harsh weather conditions.
We recommend that your cabinet is bolted to a wall or solid structure.
During stronger winds, it prevents movement of the cabinet.
Bolting your cabinet prevents the threat of thieves and vandals.
Fire extinguishers aren't designed to be placed outside without protection. Cabinets are often made of steel with a powder coating. These cabinets will protect your device from harsher weather conditions.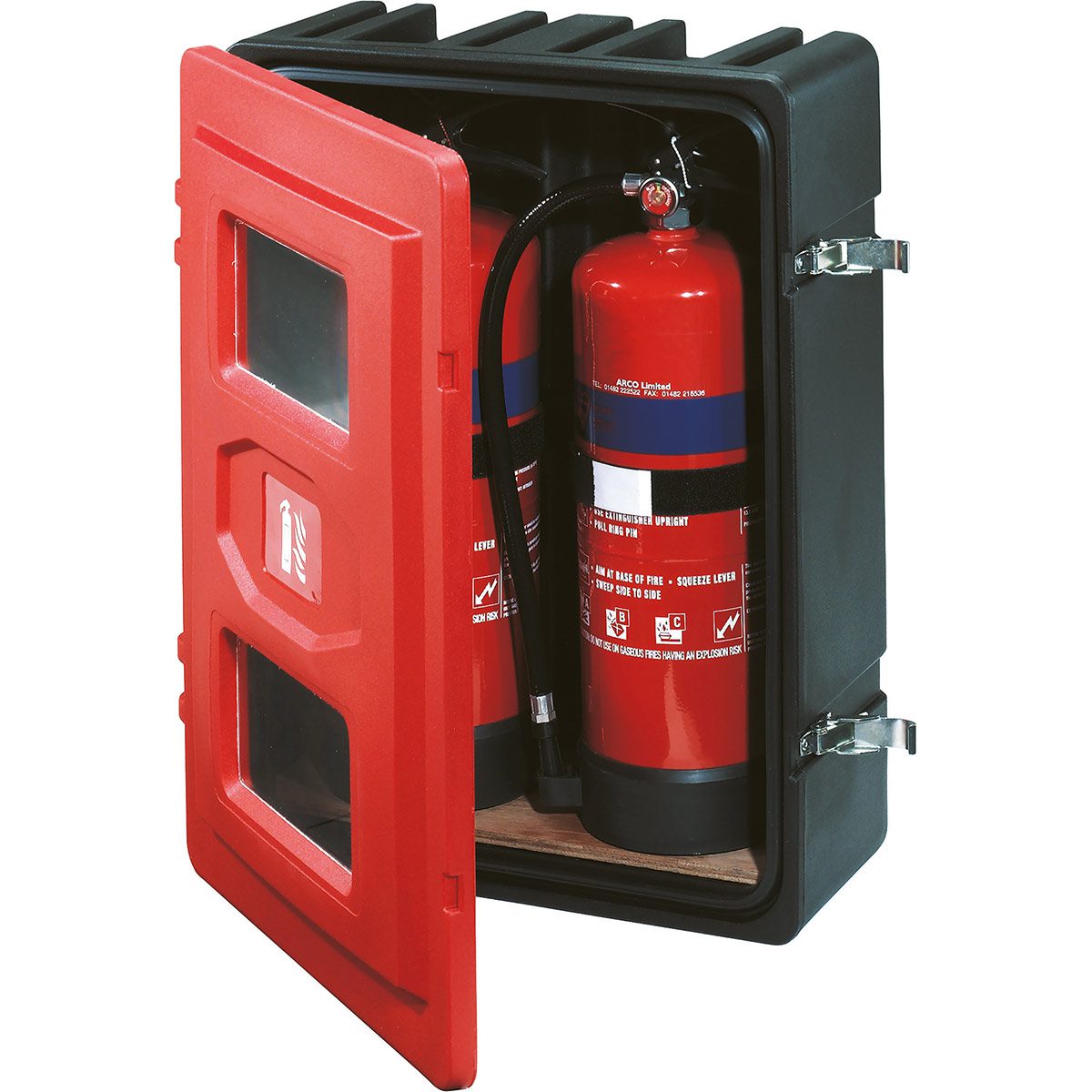 The double fire extinguisher cabinet is the perfect storage solution for two medium-sized fire extinguishers. Its tough, weatherproof design ensures that it can withstand even harsh conditions and keep its contents safe from leaks or water damage.
The double fire extinguisher cabinet is suitable for use in a variety of situations, from large events, construction sites and heavy goods vehicles.
The cabinet has a built-in inspection window and two adjustable nylon rings that hold each extinguisher in place.
Lift Off Fire Extinguisher Outside Cabinets
Suitable for holiday and leisure parks, Commander has developed an extensive range of ready-made fire protection cabinets. These cabinets are designed and built to keep fire extinguishers protected for a long period of time, and because they're also waterproof, they're especially well-suited for use in areas with extreme weather conditions.
This double fire extinguisher cabinet was designed specifically for caravan and leisure parks. It's suitable for either floor or post mounting and comes with an optional warning siren. You can expect a reinforced structure which guarantees product durability, along with ergonomic nylon handles. This product has high resistance to water, dust, UV rays and varying temperatures.
Fire Extinguisher Outside Covers
Our fire extinguisher covers are designed to protect a fire extinguisher from harsh environments and prolong the life expectancy of the device.
Fire extinguisher covers are a great way to protect your fire extinguishers from the elements and damage. They're aesthetically pleasing, but that's not all they do. Fire extinguisher covers help you identify which cylinders need inspection or maintenance more quickly, as well as keep them out of harm's way. Often a clear view window is put on the cover for ease of inspection. In addition, rear velcro fastening enables rapid removal in the event of a fire.
Covers are an excellent solution for protecting your fire safety equipment from damage caused by exposure to the elements. This aids in keeping it clean and free of debris such as leaves or dirt that could otherwise clog hoses or valves. They also help identify which units have been inspected vs those that have not been inspected in some time so they can be taken care of faster.
Fire Extinguisher Outside Chests
The large fire brigade equipment chest has been designed to store fire hose equipment such as nozzles, hoses and inlet pipes. It is also large enough to house a standpipe. This chest's design makes it very easy to manoeuvre.
Fire extinguisher chests are an ideal solution for businesses and organisations seeking protection from the elements. Whether you're looking to protect your fire extinguishers from dust and debris, water damage, theft, vandalism, fire damage or weather damage. These covers provide a secure barrier between your safety equipment and the outside world.
Industries That Require Fire Extinguishers To Be Outside
Hotels
Hotels are required to have fire extinguishers outside of their buildings because they're often a high risk for fire. In addition, hotels will often have seated areas outside of the premises for hotel restaurants or smoking areas. Due to a large number of people, it makes sense to have a surplus of fire extinguishers. Especially with varying combustible materials like carpets, furnishings and bedding that are present in hotels.
Festivals
Outdoor fire extinguishers are often found in festival areas. These areas are often quite large and can have high foot traffic, which means there is a higher chance of something being dropped onto the ground that may cause a fire. For this reason, it is important to have an adequate number of fire extinguishers on hand.
When it comes to festivals, the number of fire extinguishers you need will depend on the size and type of event. If you are hosting a small festival with only a few hundred attendees, one or two extinguishers should be sufficient. However, if you're hosting an event that attracts thousands of people each year, such as an annual music festival or county fair, you may want to consider having more than just one or two on hand.
Campsites
Outdoor fire extinguishers are often found in campsites. These are used by campers and outdoor enthusiasts to put out campfires or other small fires that may start. Outdoor fire extinguishers can also be found in public parks and playgrounds, where they help to prevent the spread of wildfires caused by burning debris. The best way to be prepared for a fire is to have an outdoor fire extinguisher on hand, as well as a fire extinguisher inside your home or business.
Conclusion
We hope this post has helped you to understand how fire extinguishers should be stored in the UK. Remember that the most important thing is not just to have an extinguisher, but also to make sure it's being used correctly.
The fire extinguisher is a very important device for any business. It can help you to save lives, protect property, and reduce the amount of damage that might otherwise occur during a fire. However, it is important for you to understand how the equipment works so that you can properly use it in an emergency situation. Also, ensure that your business has the right type of fire extinguisher on hand at all times.
Fire extinguisher covers, chests and cabinets are a great way to keep your fire protection equipment safe and secure.
If you have any questions about what we've covered here today or would like more information on our products, please do get in touch with us!